As we face two derbies in Premier League today, for sure we can say the Citizens vs Gunners will probably be one of the most exiting games there can be in the Premier League. There will be an attacking mentality of the Northwestern hemisphere of England against attacking mentality squad on the Southeastern parts of England.
As the hosts remain at full strength, Gunners still can not count on four of their starting eleven. Gunners can not count on the services of Shkodran Mustafi, Santi Cazorla, Danny Welbeck and Calum Chambers.
As injuries, form and finances favors Citizens, make no mistake to rule out Arsenal from the possibility to win the game.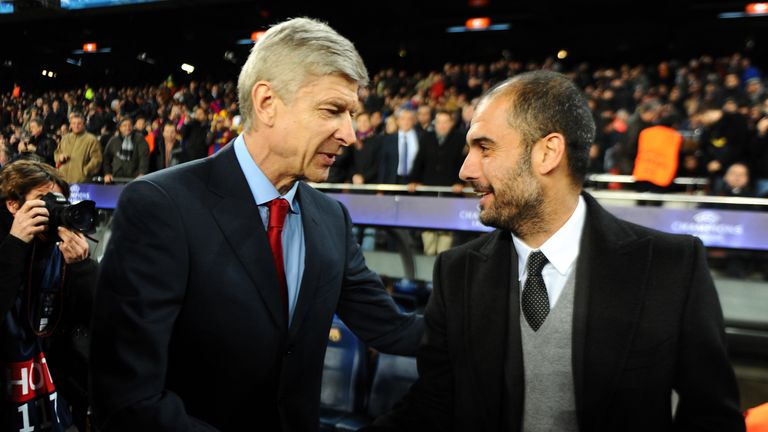 As the Citizens manager Pep Guardiola is facing the record holder since 2003-2004 season. He did not hold his compliments on achievements Wenger made with Gunners.
"I would like to say to Arsene that this record belongs to him, we are not going to break it. He has to be calm.
"It was an exceptional team, being unbeatable in the Premier League is something fantastic. We don't want to break this record but we want to play good on Sunday and beat them."
While Wenger have shown the spirit of the winner, and maybe a bit too much of a confidence with his words, but for sure in his words we can see that Wenger will not leave his attacking style of play.
"We have an opportunity to show that we can deal with these kind of games and I am sure we can.
"At the moment, we just have to prepare in a serious way with clarity and focus and give the maximum on Sunday.
"We will not hide. The best way to defend sometimes is to attack."

As Jonathan Pearce, favors the hosts, with only one slight chance of victory to the Gunners if their main players perform extraordinary
Jonathan Pearce: "In 37 years as a commentator, I can't remember any side starting a season with such a long run of joyously expressive football as Manchester City have. The win in Napoli has reverberated around Europe.
"They're breaking records every week. Their next goal will be their 50th of the season. At this rate they could hit 150 in all!
"Can they sustain it? Doubtful! Will Arsenal be the team to stop the 14-game winning run? Not if they try and hold out defensively. They don't have good enough holding midfield players to do that.
"If they risk bold, attacking football, they can maintain their good record against City. But they'll need Mesut Ozil and Alexis Sanchez fully fired up to do that."

Head-to-head
As their encounters suggest that Arsenal have advantage, this years form on the National League shows different statistics. This is both teams statistics on Premier League and their Head to Head encounters.
| | | | |
| --- | --- | --- | --- |
| | Wins | Draws | Loses |
| National League Manchester City | 9 (4 home, 5 away) | 1(1 home) | 0 |
| National League Arsenal | 6(5 home, 1 away) | 1(1 home) | 3(3 away) |
| Manchester City vs Arsenal | 50 | 45 | 96 |
| Arsenal vs Manchester City | 96 | 45 | 50 |
//Actuantes//