Alot of the talk at this World Cup has been about big teams underperforming and, believe me, I know all about that. In 2002 we went into the first World Cup in Asia as reigning champions and we had also added the European crown in 2000, playing better football and with more confidence in our ability. France turned up in South Korea with Thierry Henry, David Trezeguet and Djibril Cissé – the top scorers in England, Italy and France if my memory serves me well. We were the overwhelming favourites and no one who looked at our group – Senegal (making their World Cup debut), Uruguay and Denmark – imagined we would have any trouble finishing top. And yet we left that tournament after three games, without scoring a goal. One of the biggest flops in World Cup history.
In our defence, our star player – the incomparable Zinedine Zidane – got injured in a warm-up game and could only come back, not fully fit, for the third match. But by then we had already blown it. If you have forgotten – and these are painful memories for those of us who played these games, believe me – we lost the opening game to Senegal, 1-0. It was a huge surprise, maybe one of the biggest in the tournament's history. A bad day at the office, it happens. But what was striking was the way that defeat affected us. We were the world champions but just that one defeat made us suddenly question everything.
We know Messi is great but we're confused and sad for him. He is such a pure Barcelona product but with Argentina right now, Messi's in a mess. Something is missing – is it unity, faith? Messi doesn't seem to fit into the collective. They have so many talented strikers, so many skilful attacking players and yet they don't seem to know how to get the best out of them. They are really struggling. Is it the system? Is there a certain spirit missing?
Argentina cannot keep blaming the pressure of living up to Diego Maradona's generation – they have had plenty of time to get used to that and they have top players performing in some of the best clubs in the world. Pressure is something these guys are used to.
Going into the last game in last place, behind Iceland, was just unimaginable for Argentina fans. But maybe it's not that surprising. This team struggled to qualify for the World Cup and of course they got thrashed 6-1 by Spain not long ago – even though Messi was not on the field that night. It is possible to make a slow start and still win it – look at Spain in 2010, beaten by Switzerland in their first match but world champions a few weeks later. But somehow that scenario looks unlikely for Argentina.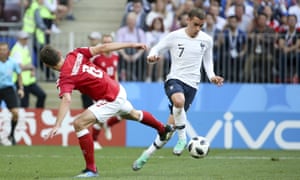 I can recall Argentina's 1978 victory at their World Cup – one of my first football memories. Some great players such as Mario Kempes, Osvaldo Ardiles and then of course Jorge Burruchaga, Jorge Valdano and Maradona for the 1986 side. Today, though, you have to say they are not a good team. If you've watched their three games you know what they've shown so far means you can't include them in the top five or six.
In that respect you could say it's good for France to have to play Argentina for a place in the quarter-finals rather than Croatia, who have impressed and looked full of confidence. The problem, though, for me as a France supporter, is that maybe their last-gasp qualification will inject a belief into this Argentina squad. You expect them to show something different now. And let's face it, France have yet to show anything to make us feel optimistic, to give us hope.
A quick word on England, who at least have shown they are capable of scoring goals at this World Cup. People say it was only Panama but you can only beat the team in front of you – it's not England's fault the opposition was weak. England's form suggests there is a future for this team. Is the future going to be at this World Cup or rather Euro 2020?
Let me finish with a word about Panama, though. I'm not like those who moan about having little teams at these competitions – for me that's what the World Cup is all about. Sure, the team let in six goals against England and had a style of defending set pieces that would not have looked out of place on a wrestling mat, but just look at the joy created by their goal! How can you not smile when you see all those Panama fans dancing and singing after that goal by Felipe Baloy? Don't you just want to be part of that? For me, that's what the World Cup is all about.